The Multichannel Mix: How to Effectively Combine Direct Mail and Digital Advertising
Reaching people in both direct mail and digital channels is a proven method for increasing engagement, revenue, and ROI. So how can marketers and fundraisers ensure that they're running the most effective multichannel campaigns with just the right online and offline mix?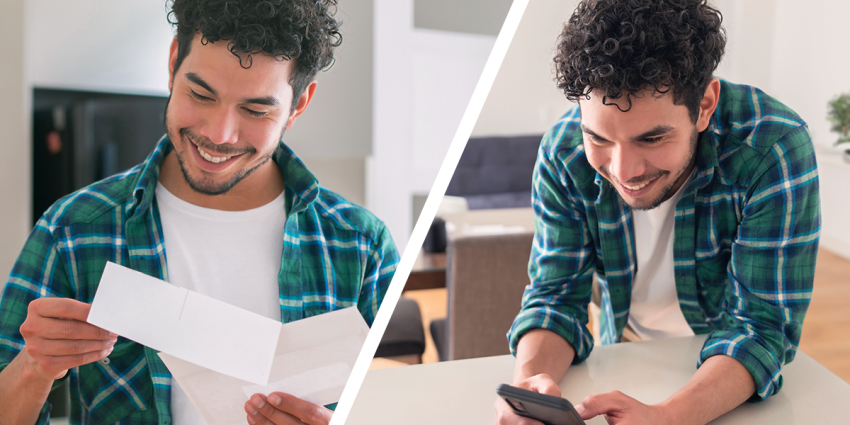 Strategically pairing online and offline marketing outreach is not a new concept. But in today's advertising landscape—made complex by rising costs, constrained marketing budgets, and ever-evolving consumer preferences—a multichannel approach has become a necessity for organizations looking to achieve both short-term revenue growth and long-term profitability.
So what do marketers need to know as they look to integrate their direct mail and digital advertising programs? We asked a panel of experts from Wiland and direct marketing agency SeQuel Response for their thoughts on how marketers and fundraisers can harness the unique and combined benefits of online and offline channels to produce the highest ROI in their multichannel campaigns.

Why is it important to consider a multichannel approach in marketing campaigns?
Shaun: "By utilizing multiple channels, marketers can create holistic engagement with their target audiences to drive growth. The five main benefits I'd cite are expanded reach, diversified engagement, enhanced customer experience, improved conversion rates, and an ability to adapt to changing consumer behaviors."
Angelo: "Real-world consumers engage in more than one marketing channel. If brands develop marketing strategies for only one channel or plan channel spend in a silo from other channel plans, they risk a disjointed consumer experience that will negatively affect sales."
Jake: "Different people respond to different channels, and most consumers get to know a brand through multiple touchpoints across multiple channels. A multichannel approach also allows marketers to achieve incremental reach that ultimately leads to higher conversion rates and higher customer lifetime value."
Jennifer: "It's a similar philosophy from the nonprofit perspective. Fundraisers using a multichannel approach keep their organizations top-of-mind and provide opportunities for donors to give when they're ready in the channels they prefer. Research shows that donors who receive messages in multiple channels are more likely to respond and give larger gifts, so it's a proven strategy that results in more revenue."
How do you determine the optimal balance between direct mail and digital advertising in a campaign?
Jennifer: "The right multichannel balance in a campaign all depends on the organization, the audience, and what the message or offer is. Knowing the goal at the onset is key, but it will then require testing to optimize response across channels."
Jake: "I agree, a test-and-learn approach is the best way to find the optimal balance. We don't determine the optimal balance; we let the data tell that story."
Angelo: "Define your goals and set KPIs to measure outcomes efficiently."
Shaun: "Gaining a deep understanding of your target audience will help you determine which channels will be the most effective—identifying the channels in which various cohorts have been most responsive. By considering the entire customer journey, you can map out key stages of interaction, including how direct mail and digital advertising can complement each other to guide prospects through."
How can direct mail campaigns be used to drive online behavior?
Jake: "It's critical to understand direct mail campaigns as both a direct response vehicle as well as an assisting channel for online engagement and conversions. An effective direct mail campaign offers opportunity and measurement for both online and offline conversions."
Shaun: "If you're going the approach of incorporating digital strategies into direct mail creative, Personalized URLs (PURLs) are great for being able to measure response and track effectiveness. QR codes provide a seamless way for recipients to immediately transition from the physical mail piece to an online interaction. Promotional codes and offers can be used to incentivize digital engagements. Sending follow-up emails soon after direct mail delivery can be an effective method of sparking higher response rates."
How can digital advertising be used to drive offline behavior?
Shaun: "There are a number of digital marketing techniques that can increase foot traffic at physical stores. Methods include location-based targeting, putting store locators on your website or app, emailing coupons for in-store use, and using digital ads to promote offline events, to name a few. A consistent brand experience is crucial for consumers to enjoy a seamless online-to-offline journey."
Jennifer: "Perhaps the most impactful way that digital can support direct mail is through co-targeting, which entails taking the names on an organization's mail file to create a digital audience for programmatic advertising that runs before, during, and after a mailing. When organizations add digital impressions to direct mail campaigns to reinforce a message, fundraisers typically see incremental revenue for relatively low additional marketing cost."
Jake: "Response to digital advertising comes in the form of online and offline activities. Advertising platforms recognize this and offer campaign objectives and other solutions to capture and optimize based on that relationship. The ability to bring offline audiences into online environments is a further extension of that relationship. It's important that digital advertising is optimized towards business outcomes (online or offline), not just online conversions."
How can offline consumer data be used to create more accurate customer profiles and personas for digital marketing campaigns?
Shaun: "Integrating offline consumer data with your existing digital data sources, such as online purchase history, website interactions, or social media engagement, helps you develop a more comprehensive view of your customers' behaviors and preferences. It can also help with identity resolution which, in turn, improves the onboarding of direct mail names that can be targeted in digital campaigns. Working with a trusted partner to append or enrich your existing data is another way to obtain an even more detailed customer view. By analyzing all of these insights, you're able to deliver more targeted, more personalized messages to the right audiences."
Jake: "Using offline consumer data to create retargeting audiences is a starting point, but that data can then also be used as a seed audience for both online and offline lookalike models, coupled with second-party purchase data that's anchored to a physical address, that result in more accurate prospecting audiences and consequently better business outcomes."
What are the key metrics for measuring the success of direct mail/digital campaign tests?
Jake: "Conversions and conversion rates compared against a holdout audience are what I would recommend. These are largely a product of identifying the optimal reach and frequency for a campaign. From there, benchmarking and setting up sound experimental designs is the way to build on success and deliver incremental growth." 
Jennifer: "We do a lot of this type of testing in the nonprofit sector. The main thing we focus on initially is helping fundraisers look at results holistically instead of channel-by-channel. We set up holdout panels of people who only receive direct mail pieces, only receive digital messaging, and then both. We then measure the conversions, costs, revenue generated, etc. This is similar to what you would do for any direct response campaign. Where it gets tricky is the role of attribution, as a single-touch attribution strategy does not make sense for a multichannel campaign."
Shaun: "In addition to what's already been mentioned, marketers should consider cost per acquisition (CPA), website traffic, unique landing page visits, digital engagement activity, and overall return on investment. As Jennifer mentioned, implementing multi-touch attribution is important so you can understand the contributions of each channel in conjunction with one another."
What role do data privacy and security concerns play in the integration of direct mail and digital advertising?
Jennifer: "This is a great question, because I think that the deprecation of third-party cookies and the constantly evolving data privacy landscape have made it increasingly difficult to reach your ideal prospects and donors online, and in some cases offline as well. Ensuring that you work with data partners who have strong internal practices around data privacy and compliance—and who build their audience solutions using permissioned first-party and other data—is crucial."
Shaun: "It is crucial that you ensure compliance with data protection regulations through consent management, secure data handling, verification of the compliance of third-party vendors, transparent privacy policies, and responsible data tracking and analytics. Respecting privacy rights and following best practices not only ensures compliance, but also fosters stronger relationships with customers based on trust and data protection."
Angelo: "Consumers are savvy about the use of their data and are increasingly selective about where and when they share it. Brands that can re-market to consumers based on data that's been shared upfront are seeing much stronger marketing performance. In order for consumers to feel comfortable sharing their information, they need to trust the brand to use it appropriately. It's critical that a brand's data privacy policy is consistent and clear to consumers or they will risk losing their trust."
Jake: "Marketers also need to use an identity graph that follows industry-standard hashing and deletion practices for security and anonymity, with no back doors for reversing out-matched audiences. You also need to consider consumer privacy and user experience along the way and ensure that prospects have adequate opt-out opportunity."
What do you think are the future trends in direct mail and digital marketing integration?
Jake: "In the future, I see direct mail and digital marketing integration as a differentiating factor between successful and unsuccessful marketers. The incremental impact of adding digital to direct mail, or adding direct mail to digital, far outweighs the cost of integration."
Angelo: "Multichannel personalization that is applied in a seamless way will be prominent. Specifically, brands that leverage relevant consumer preferences and inputs to the marketing cycle are already seeing great success with this."
Jennifer: "You often hear that 'direct mail is dead' and 'digital is going to take over,' but the reality is that both of these channels are here to stay. Both offline and online components should be considered as part of every campaign strategy. Maintaining a creative, flexible mindset about how these different channels can play together is key."
Shaun: "The future of direct mail and digital marketing integration will be characterized by increased personalization, cross-channel consistency, automation, and enhanced tracking and attribution capabilities. By staying up-to-date with these trends, marketers can leverage the strengths of both channels to create cohesive campaigns that engage and convert customers across multiple touchpoints."
Tags: co-targeting digital advertising digital fundraising direct mail programmatic