DTC Retail Outlook for 2022 – 2023
2021 saw big increases in consumer spending compared to 2020—aka the "COVID Bounce." This performance has been tough for many brands to maintain in 2022. But even with current economic headwinds and supply challenges, recent spending data and consumer insights point to reasons for optimism for retailers as we look ahead to the rest of 2022 and into 2023.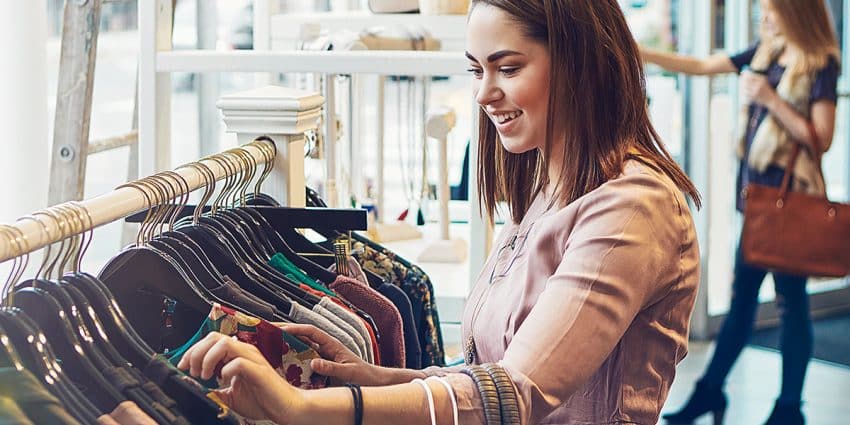 I was recently invited to participate in a panel discussion at the American Catalog Mailers Association (ACMA) 2022 National Catalog Forum in Washington, D.C. Together with Path2Response CEO Brian Rainey and Caroline Shafer, VP Data Sales at Epsilon, we discussed the challenges and opportunities faced by marketers in the continued aftermath of the pandemic, recent economic conditions, postage increases, and ongoing printing and paper shortages.
To be fair, there were more than a few reasons that we could have veered into the negative during our panel discussion. However, my fellow panelists and I chose to look ahead to the positive. In this blog, I'll provide an overview of the key findings from Wiland that I shared at the National Catalog Forum, along with some thoughts about the outlook for retailers for the rest of 2022 and into 2023. Finally, I'll recommend some questions that you should be asking your data partners right now to put yourself in the best position for future success.
Where We've Been: The "COVID Bounce"
The pandemic has presented many market-wide, systemic challenges, to be sure. For many retailers, however, 2021 was a historically good year as pandemic restrictions eased and consumer confidence bounced back, along with their spending. Although 2022 started off strong for many retailers, the bar set by the performance of 2021 has proved to be difficult for many to reach this year. But there is good news!
As a result of the 2021 surge in spending, there has been a significant increase in new first-party spending data that many cooperative databases now have in their modeling platforms. For example, Wiland has seen substantial growth in new-to-file (NTF)/new-to-category buyers within the Wiland Cooperative Database as shown in the graph below.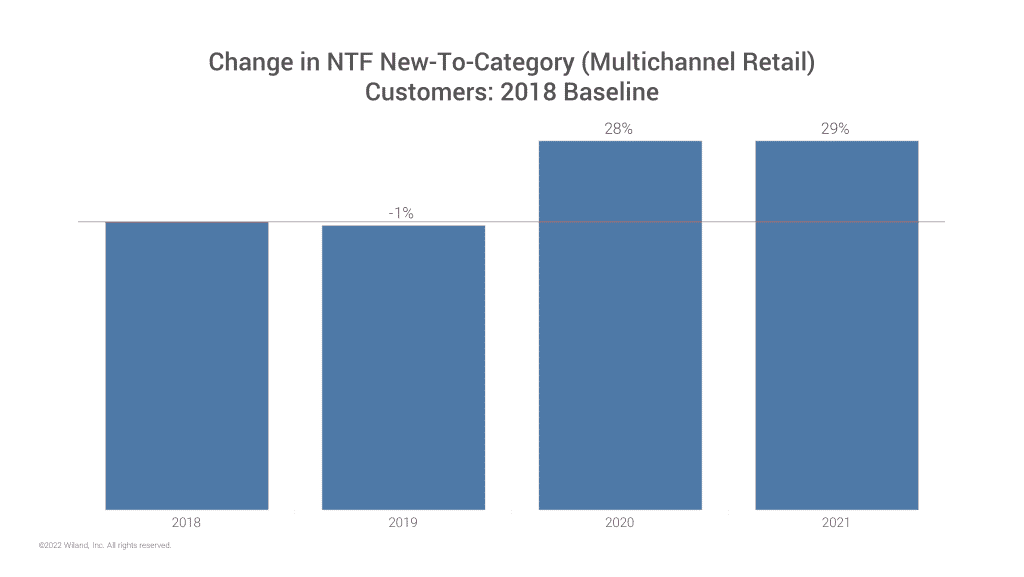 In addition to the growth of new-to-file/new-to-category customers, these new shoppers spent more on their first orders than new-to-file customers in previous years. And not just a little bit more. In 2021, there was a 29% increase in these new shoppers compared to 2018, and there was a 50% increase in inception revenue in 2021 compared to 2018.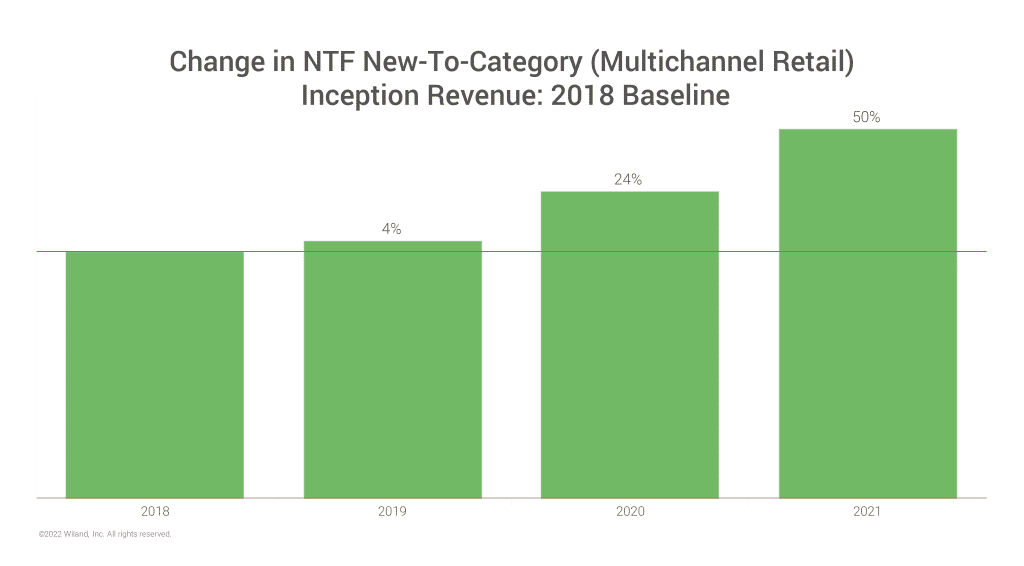 We also know that these gains were driven primarily by big moves in Food & Beverage, Home & Garden, Outdoor & Recreation, and Women's Apparel & Accessories, as shown below.

These are exactly the increases that we'd expect to see given the context of pandemic-weary shoppers skipping the mall and embracing direct and online shopping to an extent that we'd never witnessed before.
Where We're Going: Trends to Watch
In a blog post I authored late last year, I recommended that retailers focus on "staying adaptable when it comes to your mix among retention, reactivation, and prospecting." And yes, a really big jolt was coming. According to Wiland's data, the third quarter of 2021 was the biggest Q3 in the history of DTC retail. That's great news on the surface, but there's a catch: very few catalog and online retailers were ready for their markets to bounce back the way they did in 2021. Unable to react due to supply chain, paper, and press time constraints, brands tried to weather the storm as best they could.
As we look ahead to holiday 2022 and into 2023, the message remains very much the same: stay adaptable and be ready to change. The consensus at ACMA was that American consumers are now completely comfortable with shopping the way they did when the pandemic was at its peak, as evidenced by the spike in online transactions and revenue in April 2020 observable in the chart below.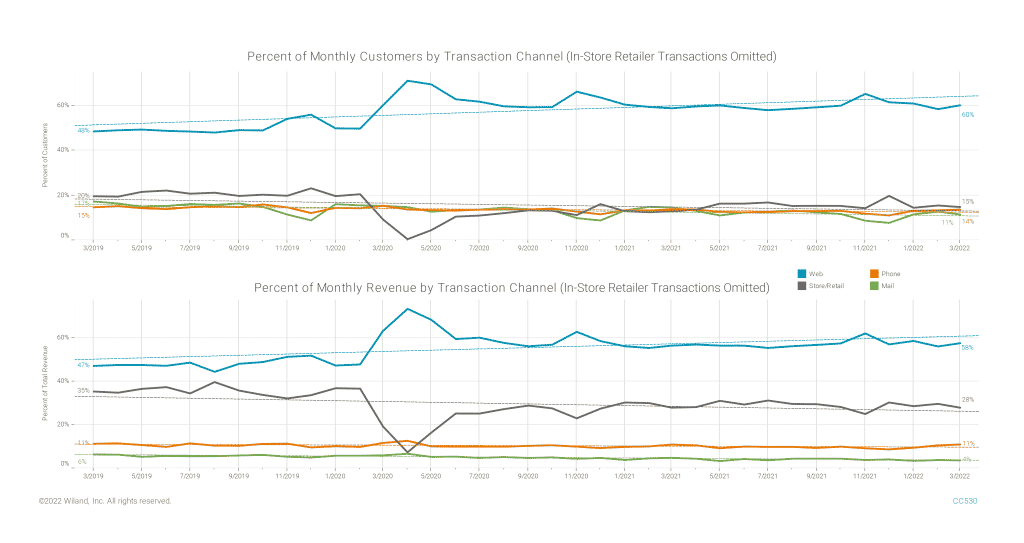 As a result, even though we're seeing a lot of brick-and-mortar stores regain traffic, in-person shopping doesn't appear to be making a big dent in DTC's momentum. Still, the trend bears watching. This hybrid approach to consumers' shopping behaviors demands an integrated view of their online and offline spending—just the kind of data-driven insight that a data cooperative can offer.
Another trend we'll be watching is the growing importance of younger buyers in the database. Every year, we see brand new names entering our database. However, we saw a surge in younger buyers in the 18- to 35-year-old range pop in the pandemic era.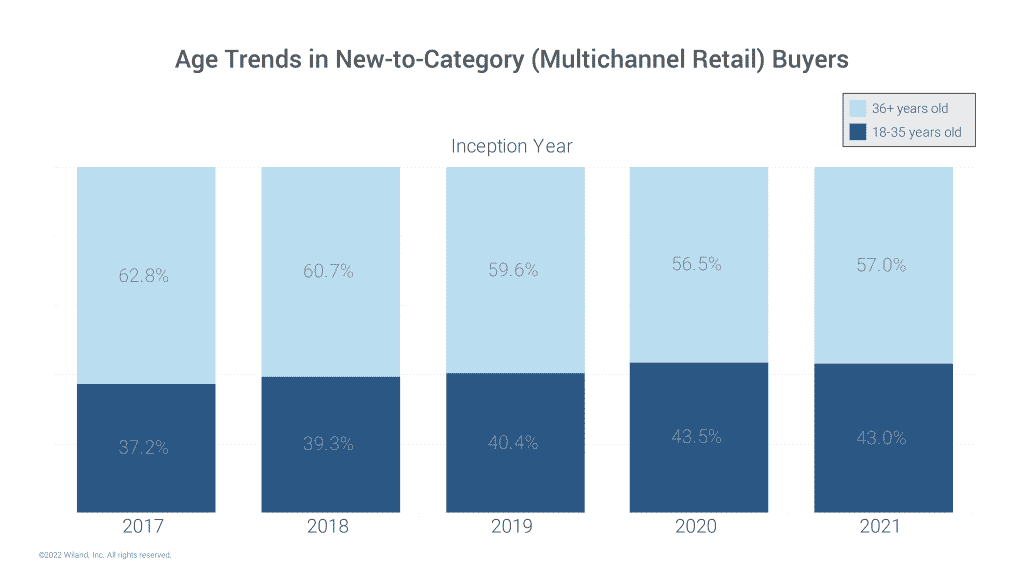 When you are looking for customers to build a long-lasting future of spending with your brand, these are the consumers that you should be cultivating. These younger buyers simply have too much buying power to ignore.
We expect to see these trends in buying channel preferences and younger buyers continue into the 2022 holiday season—a period forecasted to see positive growth even amidst the challenges that many retailers have faced this year. Insider Intelligence predicts that U.S. retail holiday sales will rise 3.3% to $1.262 trillion in 2022 compared to 2021₁. This might seem modest compared to the massive year-over-year growth in holiday retail sales in 2021 compared to 2020, but it is a positive indicator of healthy consumer spending.
As part of this holiday sales growth, Insider Intelligence also forecasts that mobile spending will come one step closer to accounting for the majority of digital holiday buying. "Mcommerce" is expected to account for 49.6% of overall holiday ecommerce sales. Brick-and-mortar and digital sales are also set to increase, sustaining the gains experienced during the major in-person shopping jump of 2021 but also settling back into pre-pandemic growth levels₁. This all points to the continued need for retailers to stay nimble amidst change, whether it's the result of a new trend or just a "leveling off" in growth and channel choices.
What You Should Be Asking Your Data Partner
There is so much new data out there today—in buyer files, in cooperative databases, everywhere. More than ever, retailers need a trusted data partner to deliver actionable insights to make better marketing decisions. Ideally, you're already engaged with a cooperative database partner who can both make sense of your newly expanded housefile and help you reach those new buyers in your campaigns. If you aren't, we strongly recommend working with a cooperative database partner. If you already are, here are some questions that you should be asking your data partner today:
What actionable insights can be gleaned from the influx of data that's been added to our database in the last 24 months?
What's happening in our category and how can we capitalize on the opportunities ahead?
How can we analyze and optimize our buyer file more effectively to model who we should (and should not) promote to?
How can we manage our marketing spend better in light of rising costs, including printing and postage expenses?
How can we make sure we're reaching the right new prospects—especially new, younger buyers with the highest LTV?
How can we leverage cooperative data to reach our direct mail customers online?
The Bottom Line
The many new-to-file customers coming into cooperative databases give reason for optimism for DTC brands in spite of the uncertainties and headwinds we are all facing. Better data analysis will be the key to marketing smarter—not just to customers but also to highly qualified prospects. And that's what data cooperatives are designed to provide.
It's also possible that an increased share of marketing spend going to digital advertising will help when it comes to effective customer and prospect marketing. Work with your data partner to generate strong audiences and reach them with integrated programmatic display advertising, co-targeting all of your offline marketing efforts.
Finally, continue or expand prospecting. You don't want to create a vacuum of new-to-file buyers down the road. Years from now, you'll be glad you stayed the course and kept on prospecting even during challenging times. And, if you prospect smartly based on comprehensive, reliable spending data, you'll be sure to see the rewards.
₁"2021 US holiday review: what it means for the 2022 season." 2022, Insider Intelligence.
Tags: business intelligence co-targeting cooperative database direct-to-consumer holiday marketing retail