Wiland, Inc. Launches New Data Product Suite that Drives More Profitable Marketing
Marketing and analytics teams using Wiland View™ will benefit from deeper knowledge of their customers, prospects, and markets—enabling more accurate predictions of consumer intent and improved campaign performance.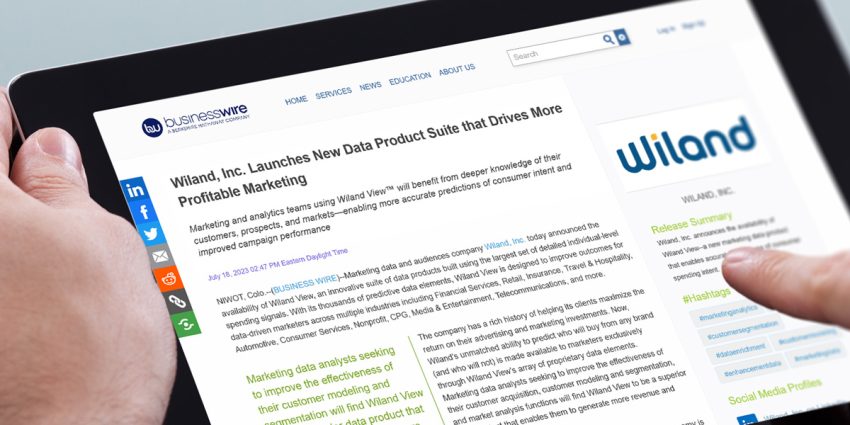 On July 18, 2023, Wiland shared the following press release on Business Wire.
Niwot, Colo. – Marketing data and audiences company Wiland, Inc. today announced the availability of Wiland View, an innovative suite of data products built using the largest set of detailed individual-level spending signals. With its thousands of predictive data elements, Wiland View is designed to improve outcomes for data-driven marketers across multiple industries including Financial Services, Retail, Insurance, Travel & Hospitality, Automotive, Consumer Services, Nonprofit, CPG, Media & Entertainment, Telecommunications, and more.
The company has a rich history of helping its clients maximize the return on their advertising and marketing investments. Now, Wiland's unmatched ability to predict who will buy from any brand (and who will not) is made available to marketers exclusively through Wiland View's array of proprietary data elements. Marketing data analysts seeking to improve the effectiveness of their customer acquisition, customer modeling and segmentation, and market analysis functions will find Wiland View to be a superior data product that enables them to generate more revenue and operate more profitably.
Wiland's knowledge of transactions that drive the U.S. economy is unique among marketing data and analytics providers. The company's advanced response prediction platform uses privacy-protective methods to resolve trillions of continuously refreshed spending and intent signals into data elements that rank more than 250 million U.S. adults by their likelihood to spend in hundreds of precisely defined market categories and with virtually any brand. This enables marketers to present consumers with offers and information most relevant to them and avoids marketing waste.
"Many brands possess information about their customers' spending with their own organizations—their first-party data. But they lack visibility into these individuals' total spending activity and purchase intent," said Drew May, Chief Client Officer at Wiland, Inc. "Wiland View closes this knowledge gap. It enables highly accurate predictions about the future spending behavior of a brand's customers and prospects—insight that the brand could never obtain on its own."
Marketers will benefit from Wiland View in important ways, including:
Improved customer modeling and segmentation
More profitable customer acquisition, retention, and reactivation
More accurate personalization of customer and prospect marketing
Deeper, more detailed market analysis
Better-informed media planning, product mix, and creative decisions
"We have always produced data-driven solutions that deliver better marketing results for our clients," said Wiland, Inc. Chairman and CEO Phil Wiland. "Wiland View takes that commitment to superior performance to a new level. By helping brands focus their marketing resources on the individuals who will deliver the most revenue and profit, Wiland View enables the highest possible return on marketing investment."
In addition to benefitting from Wiland View's thousands of highly predictive pre-built elements, users can request custom data elements created uniquely for their brands to further enrich their modeling capabilities. Wiland View is available as either a data append solution consisting of thousands of selectable data elements to be overlaid on an existing customer file, or as a file install solution that provides a complete view, including contact information, proprietary predictive data elements, and detailed demographics for virtually every U.S. adult.
To learn more, visit www.wiland.com/data
Tags: analytics data enhancement data enrichment marketing data