The Field Guide to Better Customer Marketing: How to Generate More Revenue from Your Current Customers
Customer optimization is a trail-tested way to improve the performance of every customer marketing campaign. So what are the specific tactics that marketers can use to maximize the revenue generated by existing customer relationships?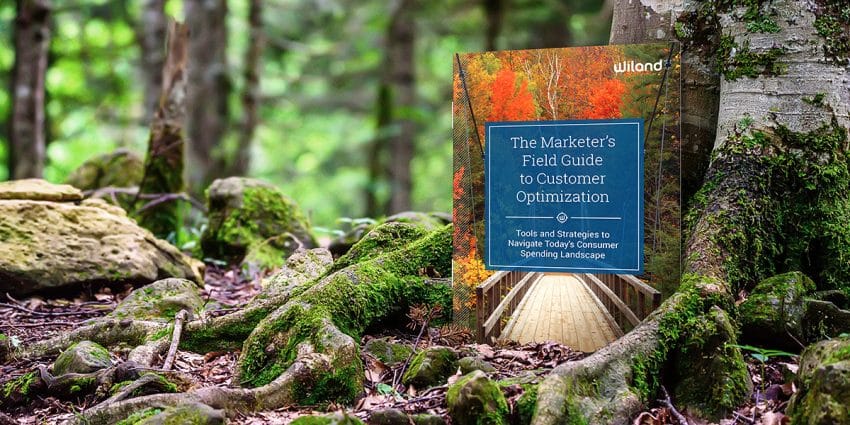 Marketers are always looking to make sure that their advertising dollars are working as hard and as intelligently as possible. Even in the best of times, ensuring that campaigns achieve peak performance is important for consumer brands. But this is especially true in today's fast-changing, often turbulent consumer spending landscape.
"Although some cost increases for consumer brands are easing slightly, there are still significant economic pressures restricting consumer spending," says Jeff Liebrock, Division Vice President of Direct-to-Consumer Retail at Wiland. "Marketers need to be very deliberate in their promotions. That's why optimizing every facet of every campaign is critical."
Customer optimization is a strategy for ensuring that your marketing dollars are producing the best possible results. This involves using comprehensive consumer spending data and predictive analytics to better understand your customers' spending behaviors, predict their likely future spending, and then leverage those insights to run more effective multichannel campaigns.
"It's more important than ever that marketers use high-quality, up-to-date information when making marketing decisions," says Dave Sharpe, Division Vice President of Diversified Verticals at Wiland. "Acquiring, analyzing, and utilizing data that goes beyond even what a brand might know about their customers is impactful to campaign profitability."
New Customer Optimization Resource Available
Recognizing the need brands have to improve customer marketing, Wiland recently created
.  This guide helps marketers determine their next steps to achieving peak customer marketing performance and more sustainable revenue growth. It is a timely, important resource, and
.
Here are three key takeaways from The Marketer's Field Guide to Customer Optimization:
Better customer understanding leads to better marketing results.


The most powerful resource that a brand has is its existing customer relationships. Fostering existing customer relationships is often a more cost-efficient revenue booster than finding new customers. Data-driven optimization strategies can help you engage with your existing customers even better.

By utilizing Wiland's comprehensive understanding of the people who spend with you—their spending propensities, subscription activities, giving behaviors with nonprofit organizations, and how they engage with competitors and brands across multiple categories—you can ensure that they experience ideal customer journeys with your brand. Dave notes that this deeper customer understanding is especially impactful when determining which inactive customers are ready to re-engage and prospects who are likely to become high-value customers.

There is a customer optimization solution out there for everyone.


We believe that marketers should consider optimization as a strategy that should inform every campaign. There is a wide range of optimization solutions available, whether you are looking to model and score your entire customer file for better segmentation or to analyze inactive customers for effective reactivation efforts. As Jeff notes, this range of solutions boils down to: 1) driving efficiencies; 2) reducing waste; and 3) increasing profitability by focusing your marketing efforts based on superior data. Through advanced predictive modeling techniques, the optimization possibilities are nearly endless.
Choosing the right data partner is crucial to customer optimization.
There are many routes that you can take on the path to peak customer optimization. Having a trusted data partner (you can learn more about that here) to act as your companion and guide is crucial to success. This partner should have deep industry knowledge; vast, high-quality, permissioned data; sophisticated prediction technology; and a proven commitment to seeing you succeed. When you find this partner, you can expect to see your marketing results improve.
In any discussion about customer optimization, it's important to note that reaching high-value new customers remains paramount as well. That's why we encourage marketers to continue and expand their acquisition programs, even when budgets are constrained. This ensures that cost reductions now don't borrow against future revenue growth. Optimizing prospecting efforts alongside the optimization of existing customer relationships will help marketers set themselves up for long-term success.
As the leading outfitter of America's most successful brands, Wiland is equipping marketers to achieve their customer acquisition and optimization goals with solutions proven to maximize spending at every stage of the customer journey. Reach out today or click below to learn more about how we can support your success.

Tags: advertisers direct mail housefile optimization optimization predictive modeling retail subscription box subscription economy subscription retail